Share with a Neighbour
Become a Monthly Donor - Share with a Neighbour
The Parkdale Food Centre believes nutritious, wholesome food is a basic human right, and that it is our responsibility to challenge inequities responsible for food insecurity.
COVID-19 has rapidly transformed our community, we are needed now, more than ever. Our goal is to grow our monthly donor community by the end of 2020. Neighbour to neighbour, neighbours sharing and helping with neighbours. How special is that?
Help us keep our community resilient, join the movement. You'll be glad you did.
Sponsor Growing Futures
This contribution will support the Growing Futures program, which provides interactive virtual school workshops where each youth receives an individual meal kit. Over the course of two days youth learn about food justice, food careers, and develop food literacy and skills. Youth develop a positive association with healthy food, often trying something new. 
Sponsor A Community Meal
Community Cooking Classes
Sharing food together is what we do best and COVID-19 won't stop us! We continue to safely share healthy, nutritious food with our community despite not being able to gather.
On Fridays, we are live on FaceBook with the Simon & Friends Cooking Show, where you can tune in and watch our Chef, Simon create a delicious community meal, which is available for takeout in our parking lot.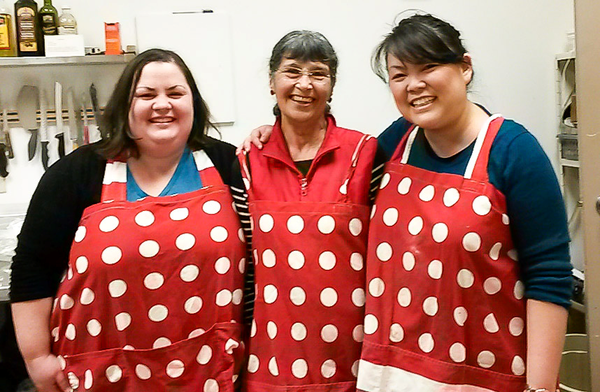 Food Donation Bags
The Parkdale Food Centre
At the Parkdale Food Centre, we believe that everyone should have access to healthy, nutritious food. If you are an individual or a family facing an emergency food shortage at home, we're here to help.
The Centre focuses on providing fresh, local, wholesome foods to our neighbours in need.  We also offer nutritional education and cooking classes to show how simple ingredients can be transformed into fresh and flavorful meals that foster improved physical and mental health.
We are a registered not-for profit charity staffed by a team of energetic volunteers and supported by a network of community partners who share our vision of building healthier, more connected communities through good food and friendship.